Our Comfort Restroom Stations are top of the line! They have a modern flair and elegance but are designed for heavy use!
With the efficiency to handle large crowds, these facilities are perfect for high-end events, such as weddings, sporting events, and private parties. For ultimate comfort and style choose the Comfort Restroom Station!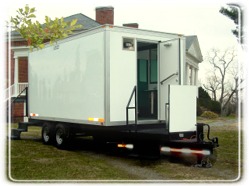 Amenities include the following:
Heating & Air Conditioning
Stereo Sound System
Wide steps with deep landings
Folding steps
Hand rails
The interior of the restrooms have a clean, modern look using stainless steal, hunter green accents and clean white walls.
The exterior is white with no advertising.
Power and water source should be within close proximity. If this is not available we can provide these requirements at an extra fee.
Measurement of Comfort Restroom Station: 20' feet long x 8'5" wide on inside. Outside the measurement is 26 foot long x 8'6" wide (with stairs down width 16'6"). Clearance requirement is 12' high.